Healthy Forests | Enviva Forest Conservation Fund | Blue Ribbon Panel |
Bottomland Hardwoods Task Force
Enviva's Commitment to Healthy Forests
American forests are abundant, healthy and growing, and Enviva is taking unprecedented steps to protect the forests and natural habitats where we work.
Enviva produces wood pellets in the forests of the American South, using an array of sustainable practices that protect environmentally sensitive areas and conserve working forests.
We operate pellet production facilities in five American states, all in locations where local forests can support them sustainably. American forests are vast and verdant. About 30 percent of all the land in the U.S. is covered in forests – the fourth-largest forest area of any country on Earth and more than twice as much forestland as all the countries of the European Union combined. And American forests are growing, not shrinking. The U.S. has more forestland today than before World War II and forests continue to expand every year.
At the same time, demand for wood and many wood products in the U.S. has dropped sharply. According to the U.S. Forest Service, consumption of low-grade pulpwood, which can be used to make paper and wood pellets, has dropped more than 25 percent to the level it was about 40 years ago, in the 1970's.
Wood pellet production accounts for only a small fraction of America's wood usage. In 2017, wood pellets accounted for about 2.7 percent of the wood harvested in the American South. And recent academic research at North Carolina State University found that wood pellet production does not harm biodiversity in Southern pine forests.
Enviva does not contribute to deforestation or forest decline. We are certified to meet the standards of major forest sustainability organizations, including the Sustainable Forestry Initiative®, the Forest Stewardship Council® and the Programme for the Endorsement of Forestry Certification. Our compliance with these groups' requirements is independently audited and verified.
We produce wood pellets using only low-grade or leftover wood that would not otherwise be milled into high-value products such as furniture or lumber. This includes pulpwood, crooked or undersized trees, limbs, tops, wood chips and sawdust. And we do not use wood from "old growth" forests.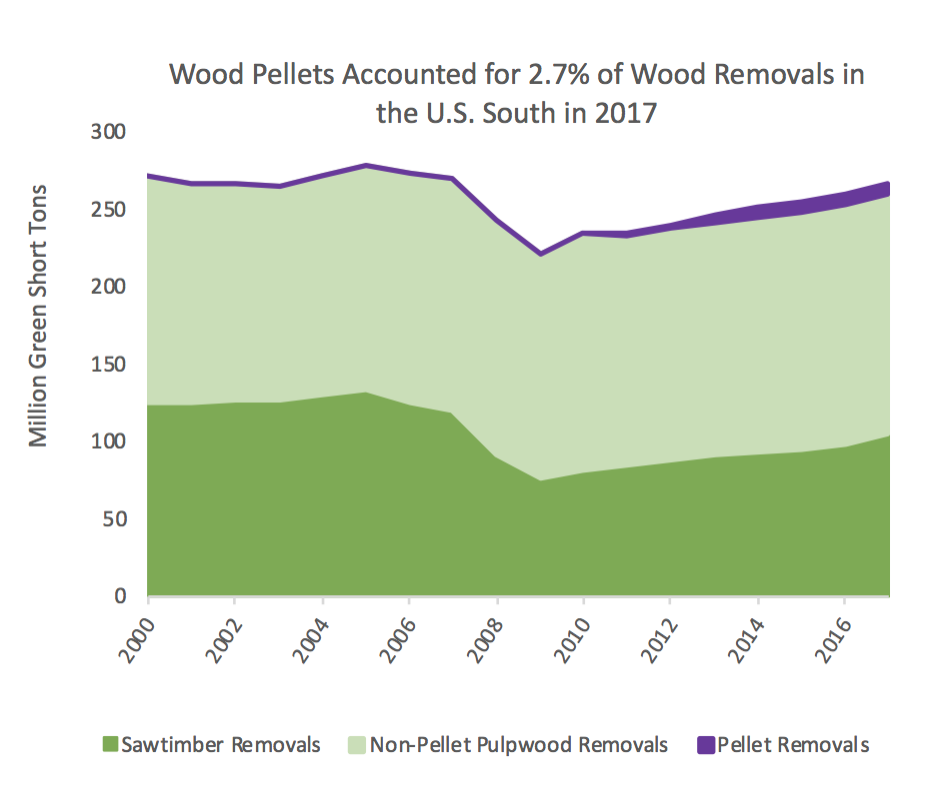 We draw from Southern working forests that typically have been harvested five or six times, beginning many decades or even centuries ago. The South's vast landscape of working forests produces more than half the nation's timber and one-sixth of the world's wood supply.
Enviva also has developed our own sustainability initiatives that go well beyond what we are required to do. We consulted with independent academic and environmental organizations who identified four environmentally sensitive forest ecosystems that have high conservation value. We do not accept wood from these "HCV" areas because we recognize some places in the forest are special and should remain so.
We have established a Track & Trace system that enables us to determine the specific source of every truckload of wood we use. This system documents the location, species and age of all our wood. To our knowledge, this is the first process of its kind in American forestry. We will issue regular reports on our wood supply in the coming months.
Finally, we have established the Enviva Forest Conservation Fund, a $5 million, 10-year initiative designed to protect thousands of acres of forests in the Virginia-North Carolina Coastal Plain, where three Enviva pellet production facilities are located. Recipients of the Fund's grants include Ducks Unlimited, North Carolina Coastal Land Trust, Virginia Department of Forestry, The Nature Conservancy (North Carolina and Virginia Chapters), Triangle Land Conservancy and Virginia Department of Conservation and Recreation.