Responsible Sourcing Policy | Third-Party Pellet Purchasing Practices & Due Diligence | Third-Party Sustainability Certifications | Sustainable Biomass Program | Landowner Resources | Lower GHG Emissions
Enviva sources its raw materials through suppliers who deliver fiber from working forests and from sawmills and other wood industry manufacturers. Enviva does not source from old growth forests, protected forests or forests that are being harvested for land use conversion. The ratios of hardwood to softwood, species mix, and fiber forms (tops/limbs vs. chips vs. sawdust, etc.) vary depending on the plant and the region. To explore data on Enviva's wood sourcing practices, visit Enviva's Track & Trace web page.
Wood fiber procured by Enviva falls into the categories below:
Low grade wood fiber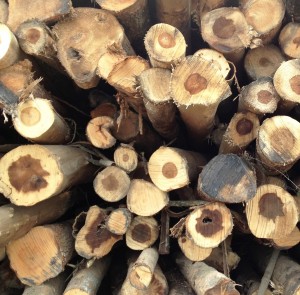 Trees or wood that are unsuitable for or rejected by sawmilling and lumber industries because of small size, defect (e.g. crooked or knotty), disease or pest infestation.
Tops and limbs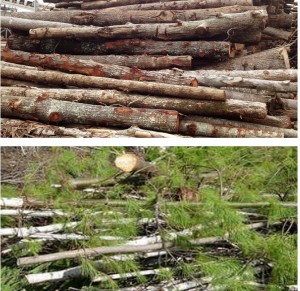 The parts of trees that cannot be processed into lumber.
Thinnings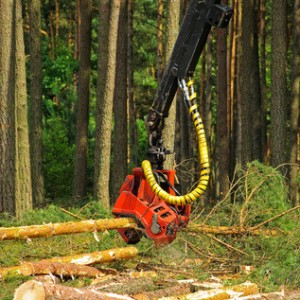 Harvests that promote the growth of higher value timber by removing weaker or deformed trees to reduce competition for water, nutrients and sunlight and/or trees removed to improve wildlife habitat.
Mill residues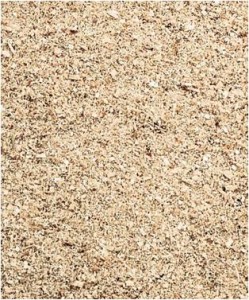 Chips, sawdust, and other wood industry byproducts.
Land Use Change
We do not source from forests where land use change to non-forest use (e.g., agriculture, development, etc.) after harvest is intended. Land use status is verified during forest certification and T&T post-harvest tract audits.
Identifying High Conservation Value Bottomland Forests
To protect bottomland forests in Virginia and North Carolina, where Enviva has four pellet production facilities, we partnered with the U.S. Endowment for Forestry and Communities (the Endowment) who independently identified bottomland forest ecosystems may possess high conservation value attributes (HCVs). Enviva made a commitment not to source wood from these HCV bottomland ecosystems. However, because most bottomland hardwood forests are working lands that do not fall into these HCV categories, identifying tracts with HCVs is a difficult, nuanced process. Enviva has developed a detailed system for assessing whether a forest possesses HCVs and whether or not sourcing wood from that tract would honor our commitment to the forest landscape. We will only agree to purchase wood from a harvest once we have determined that the tract is a working forest that is likely to regenerate with the desired composition of species.
Read a detailed description of Enviva's bottomland HCV procedures.
In late 2015, the Endowment conducted a consultation process to identify four priority bottomland hardwood forest types in North Carolina and Virginia: cypress-tupelo swamps, Atlantic white cedar stands, low pocosins, and Carolina bays. These forest types provide a wide range of environmental and economic benefits and are geographically unique to this region. Enviva does not accept wood from these HCV areas. (For more information, see the
Enviva Forest Conservation Fund website
.)
However, most of the region's bottomland forests do not fall into these four priority categories and have been managed as working forests for generations. Moreover, many forests in the southeast have been damaged by storms and high winds or previously harvested using methods that degraded the stand's structure and health. In many cases, harvesting the forest in the proper manner is the best management technique to improve the forest's resiliency. We provide a market for this low-grade material that incentivizes landowners to make good forest health management decisions. Enviva's High Conservation Value Approval Process provides a framework for us to evaluate the health and attributes of potential tracts and determine if we will accept wood from a bottomland hardwood tract.
This program involves a two-stage process that must be completed prior to purchasing any wood from the landowner.
When a supplier wants to sell wood to Enviva from a potential harvest site, Enviva's foresters conduct a preliminary assessment to determine if the forest meets a set of specific criteria which indicate that the site might be a HCV forest. The preliminary assessment indicators for each priority forest type are presented in the table below.
| Cypress-Tupelo | Carolina Bay | Low Pocosins | Atlantic White Cedar |
| --- | --- | --- | --- |
| >10% volume Cypress | Aerial photo shows landscape depression | Pond Pine overstory >50 years old | >10% Atlantic White Cedar |
| Seasonally flooded, semi-permanently flooded, or permanently flooded soils | Seasonally saturated, seasonally flooded, or semi-permanently flooded soils | Seasonally saturated, seasonally flooded, or semi-permanently flooded soils | Seasonally saturated, seasonally flooded, or semi-permanently flooded soils |
| BL HW forest >80 years old | Longleaf Pine Forest >80 years old | Flat top; stunted Pond Pine is dominant species | |
| BL HW forest >120 acre clearcut | Flat top; stunted Pond Pine is dominant species | | |
If any of these preliminary assessment criteria are met, then further investigation is required, most often involving a site visit, to determine if the site is truly HCV or a typical bottomland hardwood working forest. During this second-level assessment, Enviva foresters collect physical attribute data on the forest's structure, health, and hydrology. Specific examples of tract data include the following:
Evidence of stand health
Examples of adjacent regeneration
Availability of seed source for regeneration
Tree Stocking Levels
Insect and disease damage
Stand hydrology characteristics
When tracts are determined as non-HCV and where harvest is appropriate, Enviva works with suppliers to develop an individualized harvest technique that is most suitable for the site. We accept wood from a tract only when we determine that the forest is indeed a working forest which is likely to regenerate successfully after harvest with the desired species composition. Once approval has been completed, Enviva will perform on-site visits during harvest to monitor supplier performance and ensure the harvest technique is being properly executed.
All documentation throughout the assessment and harvest process is stored for historical reference.
Enviva Forest Conservation Fund
To help protect HCV areas, and to conserve bottomland hardwood working forest landscapes, we created the Enviva Forest Conservation Fund. This $5 million, 10-year grant program, which is administered by the Endowment, is designed to protect thousands of acres of forestland in southeast Virginia and northeast North Carolina. The first round of grants were awarded in May 2016 and will protect more than 2,000 acres of bottomland hardwood forests. For more information, visit the Enviva Forest Conservation Fund website.
Responsible Sourcing in Bottomland & Wetland Hardwood Forests
Enviva has paid special attention to responsible sourcing in bottomland/wetland hardwood forests, engaging with expert stakeholders who can assist us with our sourcing practices. To enhance our understanding of best management practices for bottomland and wetland hardwood forests, Enviva and the U.S. Endowment co-convened a "blue-ribbon panel" of 45+ expert stakeholders in May 2016. The panel, which included representatives of academic, non-profit, government, and industry groups, reviewed the science of bottomland and wetland hardwood forest management. A report detailing the findings from that workshop was released in November 2016. Enviva has incorporated the initial recommendations from the panel into our sourcing practices, and will continue to consider the bulk of the panel's recommendations with the help of a Bottomland/Wetland Hardwood Forest Task Force beginning in early 2017.
Sawmill and Residual Wood Sources
Enviva purchases sawmill and wood industry residues in the form of sawdust, shavings or other waste products generated during the manufacturing process. Because we purchase this material from other wood products manufacturers who do not implement a Track & Trace system like ours, we are currently unable to trace the wood all the way back to the specific forest from which it was originally harvested. However, all of Enviva's sawmill and wood industry suppliers are required to provide us with information on the species they use, the general geographic source of their wood, and any certifications they maintain. Enviva verifies the accuracy of this information annually through supplier outreach, and we will not work with suppliers who refuse to provide the information we request.
Independent, Third-Party Certifications
Enviva maintains independent forest certifications to ensure we meet industry-leading sustainability requirements. We are certified to meet "chain of custody" standards set by three separate organizations: the Forest Stewardship Council™ (FSC) Chain of Custody Standard requirements; the Program for the Endorsement of Forest Certification® (PEFC®) Chain of Custody Standard requirements; and the Sustainable Forestry Initiative® (SFI) Chain of Custody Standard requirements.
These certifications, which require annual independent third party audits of our activities and supply chain, are designed to confirm that Enviva adheres to the highest industry standards of responsible fiber procurement, which includes provisions for biodiversity conservation, contractual requirements for the use of forestry Best Management Practices (BMPs), legal and regulatory compliance, and management oversight and participation in sustainability processes. As part of these certifications, we are committed to avoiding the purchase of controversial wood sources. The following types of wood and wood products are considered unacceptable, and are avoided:
(1) illegally harvested wood;
(2) wood harvested in violation of traditional and civil rights;
(3) wood harvested from forests where high conservation values are threatened by management activities;
(4) wood harvested from old growth or semi-natural forests being converted to plantations or non-forest use;
(5) wood from forests in which genetically modified trees are planted; and
(6) violation of the ILO Declarations on fundamental principles and rights at work
Enviva's FSC Self Declaration document is available upon request.
Enviva also maintains certification under the SFI Fiber Sourcing Standard. The SFI Fiber Sourcing Standard is for organizations that do not own or manage land but do procure wood directly from forests. To be certified, Enviva must show that the wood we source comes from legal and responsible sources, whether the forests are certified or not.
These organizations also offer "forest management" certification programs, for which the landowner develops a forest management plan based on a sustainability standard. Timberlands in Enviva's procurement areas are owned by hundreds of thousands of individuals, families, and corporations with average landholdings of fewer than 100 acres1. While a very small proportion of the landowners in our forest supply areas have invested in the costly certification process, we purchase certified content whenever possible. In 2018, 23% of the wood Enviva received was certified at the forest management level through the Sustainable Forestry Initiative® (SFI), the Forest Stewardship Council (FSC), or American Tree Farm System® (ATFS) standards.
Given the challenge of land certification in Enviva's forest supply areas, more needs to be done to promote certification so that we can increase our share of certified content. To move us toward this goal, Enviva established an Independently Managed Group under the ATFS certification program. Through this program, we actively recruit local landowners to join our group and work with them to develop management plans and certify their forests.
1According to the USDA's "Who Owns America's Trees, Woods, and Forests? Results from the U.S. Forest Service 2011-2013 National Woodland Owner Survey" http://www.fs.fed.us/nrs/pubs/inf/nrs_inf_31_15-NWOS-whoowns.pdf