Strong Communities | Giving Back
Enviva has operations throughout the mid-Atlantic and southeast U.S. regions and endeavors to support initiatives that will have a meaningful impact on the local communities where our facilities are located. Our outreach and philanthropic efforts primarily focus on three axes: sustainable forest management and restoration, promoting sustainability through education and local initiatives that support environmental initiatives.
Below are some stories of outreach in our local communities.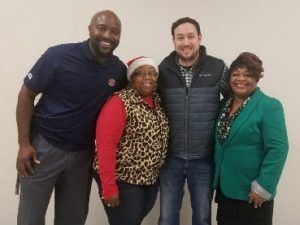 Dobbins Heights Community Holiday Dinner
In December 2017, Enviva, the town of Dobbins Heights and Trusting in Jesus Ministries joined together to host a holiday celebration dinner at the Dobbins Heights Community Center. More than 200 residents attended the event to share a meal, participate in gift giveaways and enjoy the company of neighbors this holiday season. Attendees included Tyre'l Holloway, Dobbins Heights Council Member and Mayor Pro Tempore, Angeline David, Dobbins Heights Council Member, and Apostle Dr Brenda Fairley-Ferebee from the Trusting in Jesus Ministry. All leftover food was donated to New Life Church Men's Shelter or given to those in the community unable to attend.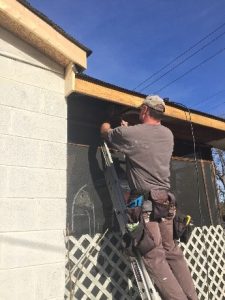 Enviva supported home renovations for five families in Richmond County in late 2017, working with Habitat for Humanity of the NC Sandhills and Military Missions in Action. (read more)


Hurricane Matthew Recovery
In fall of 2016, Enviva donated $50,000 to volunteer first responders and service organizations in Enviva communities helping NC and VA recover from the impacts of Hurricane Matthew. The 10 volunteer service organizations supported provide emergency rescue, fire, and flood protection for more than 500,000 VA and NC residents, and regional food banks arranged distribution of more than 1 million pounds of food in response to the storm.

Truck Driver Appreciation Day
In September 2016, Enviva facilities in Hertford and Northampton County, NC and Southampton County, Va. recognized more than 500 contract wood supply drivers during Truck Driver Appreciation Day. Each plant provided homemade treats, refreshments and hosted them at a break station during 24-7 operations.

Each holiday season, Enviva facilities participate in a local "Adopt-a-Family" program, providing gifts and necessities to families in need. For 2016, staff at the Enviva Northampton (NC) pellet plant came together to sponsor 15 families for the holidays.

In March 2012, Enviva participated in the groundbreaking of the Elizabeth River Project's historic wetland restoration at Paradise Creek Park, next door to Enviva's export terminal in Portsmouth, Va. Enviva continues to support ERP through various initiatives throughout the year.

What are wood pellets and why are they important? Enviva staff visit schools in communities where Enviva has operations to answer questions like these. For younger students, we developed Woody the Wood Pellet, an illustrated story explaining how the products Enviva manufactures are helping our customers meet their environmental goals. Most recently, Enviva staff visited KIPP Gaston College Preparatory School in Gaston, NC which is right down the road from our Northampton facility.

Enviva Named Model River Star
Enviva Port of Chesapeake is honored as a Model Level River Star by the Elizabeth River Project, a local non-profit group in the Chesapeake, Va., working with residents and businesses to restore the Elizabeth River. The Port has established stormwater pollution prevention efforts, supported tree planting, incorporated a strong environmental ethic at the site, mentored other River Stars, and most recently facilitated oyster growing that will further wildlife habitat enhancement improvements.