Welcome to Enviva
Mission | Values | Name | Sustainability Policy | Giving Back | FAQ
Established in 2004, Enviva provides clean, sustainable, renewable woody biomass to industrial-scale customers. Enviva's mission is to become the preferred partner and supplier of sustainably-sourced wood pellets and other processed biomass to serve power generation and industrial customers seeking to decrease their dependence on fossil fuels and reduce their carbon footprint. Enviva has been safely, stably and reliably supplying wood chips and wood pellets to customers in the U.S. and Europe since 2007.
Enviva is one of the largest manufacturers of processed biomass fuel in the form of 100% wood pellets in the United States. With U.S. manufacturing facilities and partner facilities in Mississippi, North Carolina and Virginia, Enviva has an annual production capacity of approximately 1.24 million tons (1.1 million metric tons). In addition to these manufacturing facilities, Enviva owns and operates a deep-water port terminal in Chesapeake, VA. This ensures that we closely monitor our product from forest to plant to port.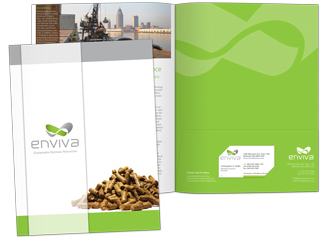 Learn more about Enviva and our commitment to sustainable forestry by reading our Forest Credo and visiting our online company profile here.
To request a printed copy, please contact us at info@envivabiomass.com.
English | Français