Enviva Presents $25,000 Donation to Boys & Girls Clubs of the Lakelands Region's STARZ24 Teen Center with Special Guest, NFL Star, Josh Norman
June 05, 2020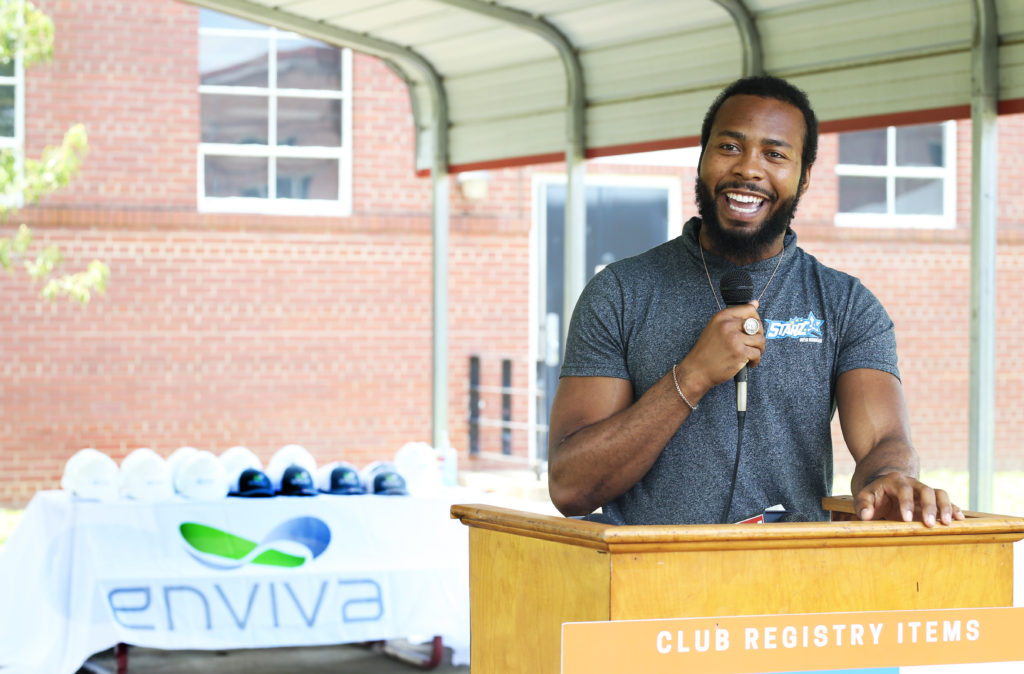 GREENWOOD, S.C. – June 5, 2020 – Today, Enviva, a leading global energy company specializing in sustainable wood bioenergy, presented a $25,000 donation to support the development of the STARZ24 Teen Center in Greenwood, S.C. Enviva was joined by Buffalo Bills' cornerback and Greenwood native, Josh Norman; South Carolina State Senator, Floyd Nicholson; Greenwood Mayor, Brandon Smith; Enviva Greenwood Plant Manager, Croft Hollingsworth and other local dignitaries.
Enviva's donation will directly support the renovation of the new 12,000 square foot, state-of-the-art STARZ24 Teen Center for local families and youth. The STARZ24 Teen Center, named after Josh Norman's STARZ24 Foundation, will serve as The Boys & Girls Clubs of the Lakelands Region's premiere out-of-school time programming destination for teens. The new Teen Center will serve over 1,000 teens annually with dedicated space for creative arts, STEM programs, academic support, and health and wellness. The STARZ24 Teen Center is expected to open to the public in fall 2020.
"I want to thank Enviva for working in our community to enhance the quality of life for our citizens. It is great to have them as a true partner in our community. Working together we can move our nation forward," said Senator Floyd Nicholson.
"We are thankful to Enviva for their generous donation to the STARZ24 Teen Center," said Carter Clark, President & CEO of the Boys & Girls Clubs of the Crescent Region. "As we draw closer to opening the new STARZ24 Teen Center in fall 2020, we are still in need of some generous donations to turn this community project into a reality for families and children to celebrate and enjoy well into the future."
Since 2018, Enviva has played an active role in the Greenwood community, where the company owns and operates a sustainable wood pellet production plant that produces approximately 500,000 metric tons of pellets per year and currently supports nearly 250 local jobs. Enviva remains committed to strengthening the communities in which they operate and regularly supports local Greenwood events and entities such as the Special Olympics, the Chamber of Commerce, Preserving Lake Greenwood, Greenwood Partnership Alliance, Self Regional Hospital, and many others.
"This donation represents a long-term investment in Greenwood. The STARZ24 Teen Center will provide a safe, social and educational space to inspire, motivate and challenge our youth to be the best versions of themselves; which in turn will have a long-lasting, positive impact on the Greenwood community for decades to come," said Croft Hollingsworth, Enviva Greenwood Plant Manager.
Boys & Girls Clubs of the Lakelands Region joins over 4,000 Boys & Girls Clubs across the nation to provide programs and services to promote and enhance the development of boys and girls by instilling a sense of competence, usefulness, belonging, and influence. From sports to the arts, volunteerism to academic pursuits, the STARZ24 Teen Center will offer teens resources and programs to create meaningful experiences today as they prepare a plan for their future.
"We are so grateful for Enviva's contribution to this worthy project. There has been a void in recreational and cultural opportunities since the closure of the old recreation center, and Enviva's gift, along with generous donations of others, will go a long way towards making the STARZ24 Teen Center a new social hub for our community," said Brandon Smith, Mayor of Greenwood.
Interested in getting involved?
The Boys & Girls Clubs of the Lakelands Region is asking Greenwood citizens, and companies like Enviva, to help support local kids and teens by donating today. To learn more about how to support local Boys & Girls Clubs, visit www.Lakelands.BeGreat.Club.
About Enviva Holdings, LP
Enviva Holdings, LP is the world's largest producer of industrial wood pellets, a renewable and sustainable energy source used to generate electricity and heat. Through its subsidiaries, Enviva Holdings, LP owns and operates wood pellet processing plants and deep-water export terminals in the Southeastern United States. We export our pellets primarily to power plants in the United Kingdom, Europe and Japan that previously were fueled by coal, enabling them to reduce their lifetime carbon footprint by about 80 percent. We make our pellets using sustainable practices that protect Southern forests and employ about 1,200 people and support many other businesses in the U.S. South. Enviva Holdings, LP conducts its activities primarily through two entities: Enviva Partners, LP, a publicly traded master limited partnership (NYSE: EVA), and Enviva Development Holdings, LLC, a wholly owned private company. To learn more about Enviva Holdings, LP, please visit our website at www.envivabiomass.com and follow us on social media @Enviva.