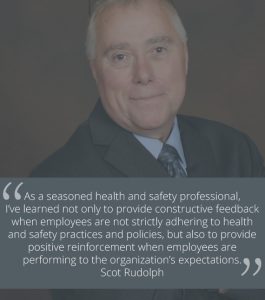 In January 2018 I was hired as a Regional EHS Manager by Enviva after a nearly two-year search for full-time employment. This journey has been quite a learning experience, and I would like to share some lessons learned from my 30 years in industrial health and safety.
First and foremost, I continue to advocate for the value of being a positive influence in life and, in particular, in the workplace. One of the benefits of being a "senior" professional is that I've lived a full spectrum of experiences. Since coming to work for Enviva, I've had to expand my knowledge in a sector of industry that I knew nothing about—wood pellet manufacturing for power plants in the U.K., EU, and Asia.
Enviva is a leading global energy company specializing in sustainable wood biomass—and it's the world's largest producer of wood pellets, which provide sustainable, low carbon heat and power, replacing fossil fuels. Enviva owns and operates seven manufacturing plants in five states in the Southeast United States. These are 24/7 operations, and the men and women who work in these plants work 12-hour shifts with plenty of opportunities for overtime. It is hard work. Seasoned professionals have learned the detrimental impacts of low morale on productivity and safety. True leaders have learned a key lesson: If you take care of your people, they will take care of you.
As a seasoned health and safety professional, I've learned not only to provide constructive feedback when employees are not strictly adhering to health and safety practices and policies, but also to provide positive reinforcement when employees are performing to the organization's expectations. Too many times, employees hear from leaders only when they are underperforming. An experienced professional can be invaluable in shaping a leadership team's approach to developing a culture that values the contributions of individuals for the success of the entire team.
Whether an organization has an Operations Management System, Integrated Management System, or Operational Excellence Management System, a critical element is developing and sustaining a culture that underpins operational excellence by valuing individual contributors as key stakeholders. Over my three decades in industry, it has been my experience that front-line workers often feel undervalued simply because leaders will pass them in the workplace when they're hot, sweaty, tired, or working in a difficult situation and not take the time to say,
By: Scot Rudolph
January 14, 2019